Parks for Everyone
Everyone Outside, No Obstacles
Grounded in our belief that time in nature promotes positive mental and physical health and well-being, we want to ensure that everyone has access to our great outdoors. This means addressing inequalities and barriers that prevent British Columbians from getting outside, obstacles such as transportation, logistics, equipment, park accessibility and more.
Outside and Unplugged
Through our Outside and Unplugged initiative, you can give vulnerable Canadians the opportunity to experience BC's parks and learn about health and nature. We work with outreach organizations, such as Mosaic to provide opportunities to new Canadians and refugees, and Foundry to provide opportunities to youth ages 12-24.

We also work with a number of organizations to get kids outside. Children today spend an average of 7-8 hours per day in front of screens. All this screen time has been linked to increasing rates of obesity, ADHD, anxiety, spinal malformations, and strained social relations. The Canadian Chief Public Health Officer recently said that active play outdoors is essential for healthy child development.
Please consider giving a child, youth, or vulnerable Canadian the opportunity to experience nature by donating here.
Thank you to our Program Partners: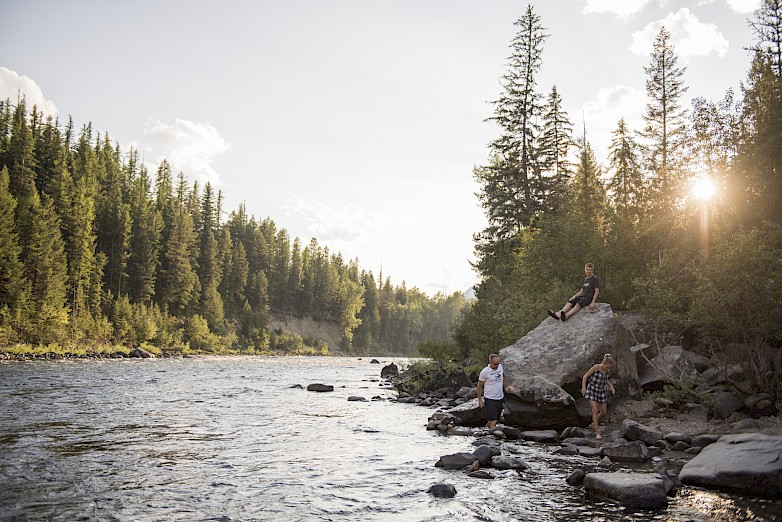 Park Improvement Initiatives
Another key aspect of removing barriers to access is to ensure that our parks and the facilities at the parks are accessible and well maintained. Donors like you have shown great committment to such projects.
What You've Accomplished So Far:

Thousands of park supporters from across British Columbia and globally showed their love and appreciation for B.C.'s parks by giving to our Foundation.
New facilities were created in Gwillim, Drumbeg, and Ancient Forest/Chun T'oh Whudujut Provincial Parks.

Accessibility improvements were completed at Rathtrevor Beach Provincial Park to make it easier for seniors and disabled visitors to enjoy the facilities.

The volunteer-led, Mitlenatch Island Stewardship Team have been supported in continuing their important work protecting the bird refuge that is Mitlenatch Island.

Surveys are being undertaken and restoration work in Desolation Sound.
Work is underway to replace the dock, refurbish and add new tent pads and upgrade ranger facilities at Top of the World Provincial Park.

Accessibility improvements were completed at Kokanee Creek Provincial Park.


See below for more information on current projects.
"

I can't conceive of anything being more varied, rich and handsome than planet earth: its crowning beauty is the natural world. I want to soak it up, to understand it ... then put it together and express it in my painting. This is the way I want to dedicate my life.

"
Subscribe to our newsletter