My Time as a Discover Parks Ambassador
January 16, 2023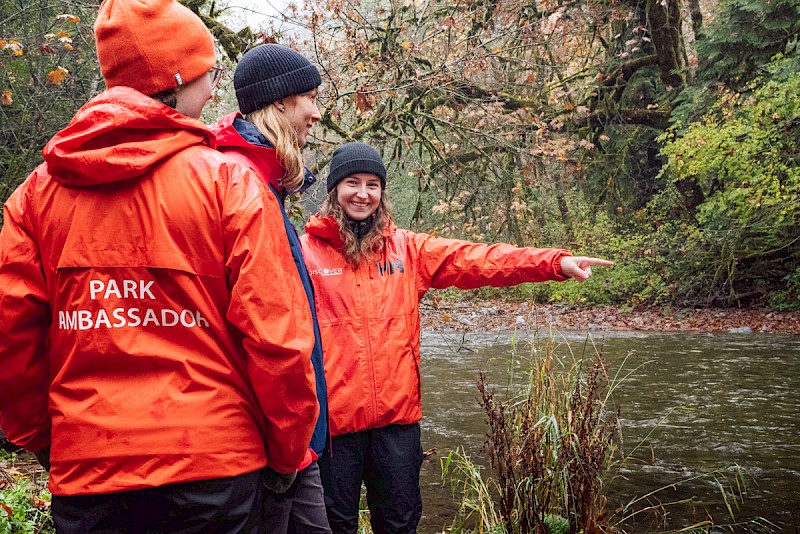 After a successful summer with our Discover Parks Ambassadors creating memorable experiences for Park Visitors across the province, BC Parks Foundation was excited to carry that momentum into the fall. The term 'Peak Season' in the realm of parks, conjures visions of midsummer camping vacations and trail adventures. But in part of one park, specifically the day-use area of Goldstream Park, mid-November is when the parks visitation skyrockets and visitors flock to this Southern Vancouver Island location. Mid November on Vancouver Island is often drizzly, dark and cold so it seems contrary to basic human comfort to hear that thousands of people throw on rain jackets and gumboots and return to this park year after year in November. What draws them to Goldstream in the fall? What causes this annual migration of visitors year after year? Salmon. The Goldstream Salmon Run has been referred to as a Rite of Passage for children on Southern Vancouver Island and just about every resident and visitor to the area has a story about witnessing this amazing natural phenomenon in Goldstream. The river is accessible, the views are phenomenal, and the salmon are epic in their self-sacrificial effort to spawn.
After a couple of years of limited service at the Goldstream Nature House, BC Parks Foundation stepped in to support this community icon and bring back interpretive programming for schools and visitors during the salmon run. Three Discover Parks Ambassadors were brought in to spend the season sharing the stoke of salmon with all who were eager to participate or willing to listen. The presence of interpretive opportunities was appreciated by many who visited Goldstream this fall. The three recent science graduates who took on these short, but intense, work-terms found themselves benefitting in ways they never imagined. Take a moment to share in their experiences in their own words that follow.
Paige: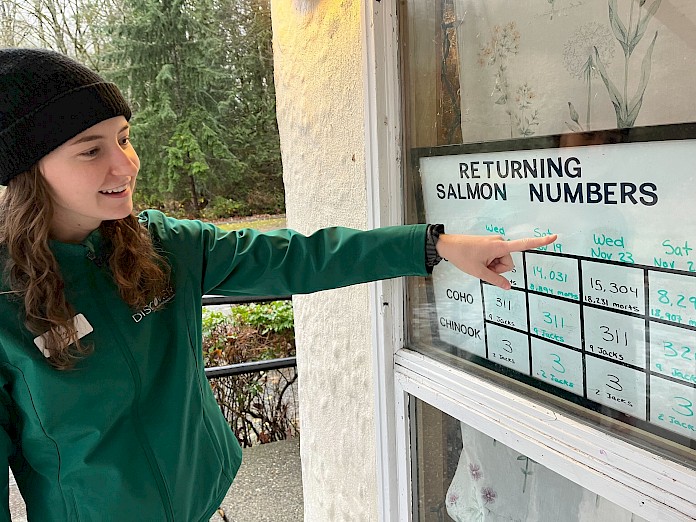 Throughout the past 7 weeks of the fall, I had the fortunate opportunity of being a Discover Parks Ambassador in Goldstream Provincial Park with the BC Parks Foundation. As salmon made their way up the Goldstream River each day, my team and I were there to share their story. While being situated in the Goldstream Nature House every Wednesday-Sunday, my role primarily consisted of educating school groups about the salmon run through programs such as salmon storybooks, short videos, and dissections. When I was not in the Nature House, you could probably see me in my bright orange jacket from miles away, wandering the well-kept trails, admiring some moss hanging from a tree and interacting with park visitors, informing them about the natural phenomenon that is the salmon run. Although this employment opportunity had many great aspects, being able to share my passion and knowledge about salmon with park visitors and seeing the spark in their eye when I would share an interesting fact was the most rewarding. The knowledge I gained about salmon while working here has entirely changed my perspective of these creatures. How they can find their way back to the waters they were born in 4 years prior is beyond me. I did not know just how smart and amazing they are, which has now strengthened my passion for salmon conservation initiatives.
Being a Discover Parks Ambassador meant constantly working in a team environment and goodness am I lucky to have had the best team ever. My colleagues, Caden and Kaylee were respectful, hard-working and a pleasure to get to know. I know they will succeed in their future endeavours and I admire our shared passion for environmental conservation. I am fortunate I got the experience of working for an organization such as BC Parks Foundation, even if it was just for a short period of time. I hope to take all that I have learned and apply my new and further developed skills to my next employment opportunity while continuing to make an environmentally driven investment into life's collective future.
Caden: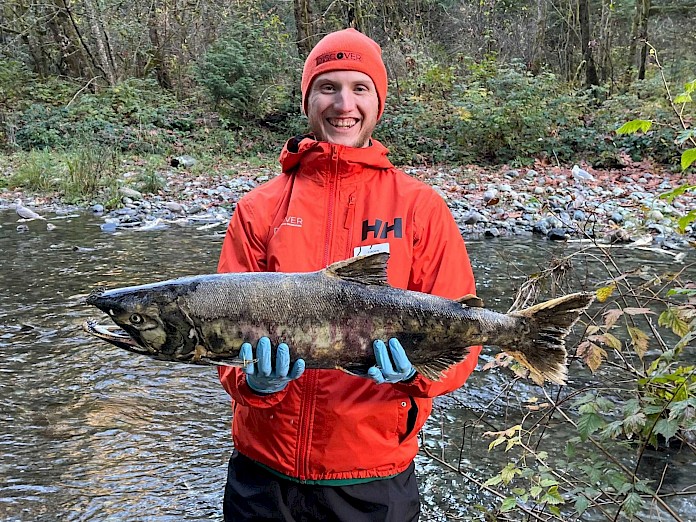 My job as a Discover Parks Ambassador at Goldstream Park really felt like I was a spokesperson for the salmon as they entered the river. I told people the stories of the salmon as they got here and the trials, tribulations and near misses that each one surely encountered on their journey back to Goldstream. As a Park Ambassador of Goldstream, the Nature House and park itself were my office. School groups came in droves as the salmon swarmed the river and I helped provide the bridge of understanding between them along with my colleagues. We educated people on the importance of the salmon run within the ecosystem as well as the intimate inner workings of salmon anatomy and physiology. The easiest way to get people's attention was to simply pull a salmon out of the river (that has passed away naturally of course) and offer a dissection. An offer that was rarely ever turned down
I was lucky to have the opportunity to work here and make Goldstream my home for a short time. But the job is only ever as good as the people you work with and I got lucky in that department as well. My fellow Park Ambassadors Kaylee and Paige were two of the most easygoing, hardworking and environmentally passionate people I've had the pleasure of meeting. I wish them both the best and have no doubt that there will be success for both of them in the future.
Even if it was a rather brief time spent at the Goldstream Nature House in a position I honestly was not sure about, it ended up being an exceptional experience and one that I'm happy to have done. Working for the BC Parks Foundation at the Goldstream Nature House has given me more confidence in my abilities and skills that I can put to use in my future endeavors regardless of where I may end up.
Kaylee: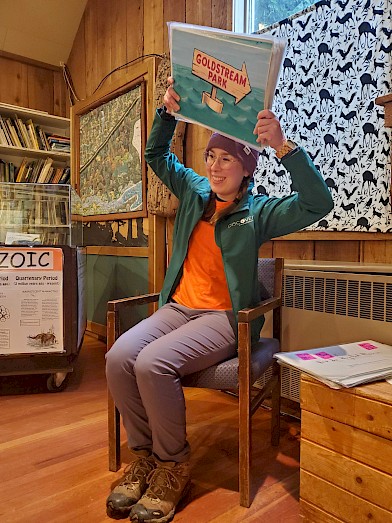 For seven weeks this autumn, I was lucky enough to work as a Discover Parks Ambassador at the Goldstream Nature House. This was my first biology-related job out of university, and I could not have hoped for a better first-job experience. It gave me the opportunity to share my knowledge about the things that I am most passionate about as I continued to grow my skills as an environmental educator and learn more about our local ecology. The most rewarding part of the job was definitely seeing how people lit up when they learned new and interesting facts, and discovered that there is much more drama and action happening in the river than one might think.
Goldstream is a beautiful park, and I am so happy to have been able to spend every day of my work week admiring the mossy trees, watching wildlife, and soaking up the beams of sunlight that filtered through the canopy. I am also lucky to have had such fantastic co-workers who I had a lot of fun working with and getting to know. I look forward to continuing to grow and apply the skills that I have built while working here, and I am excited to see where my experiences will take me as I continue to build my career. Thank you so much to the BC Parks Foundation for hiring me and giving me the chance to do what I love over the past few weeks. I wish the Goldstream Nature House all the best for the future!
See our public report, donate, and learn more about the Nature Houses by clicking HERE!
Similar Stories
June 10, 2019

February 5, 2020
"

In every walk with nature, one receives far more than they seek. 

"
Subscribe to our newsletter