New interactive trail in Tsútswecw Park opens June 7
December 31, 2019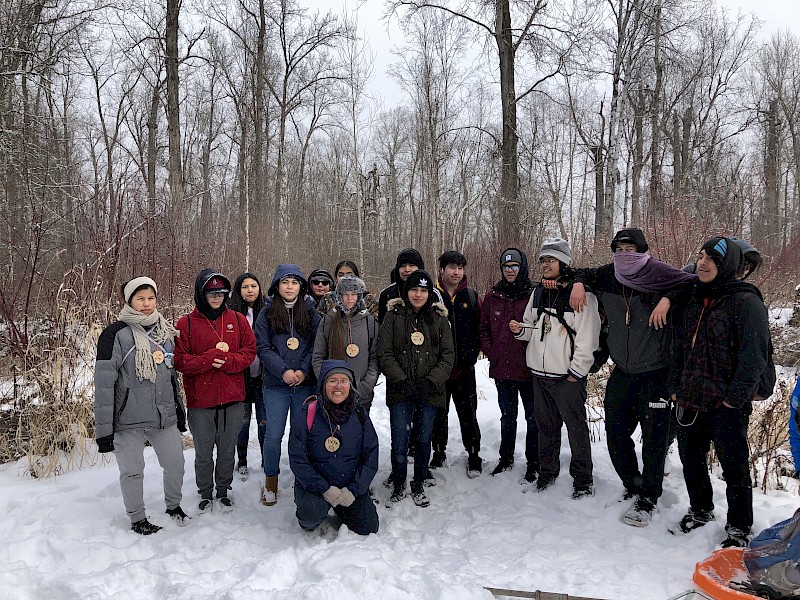 Squilax, BC, May 24, 2019 |
Trail uses technology to tell the story of local plants and landscape through the voices of Secwépemctsin language students
Storytelling is at the heart of how humans have connected for centuries and is a fundamental tool in teaching how to love and protect the environment. On Friday, June 7, the BC Parks Foundation and BC Parks are opening the first Story Trail: an interactive and interpretive trail in Tsútswecw Provincial Park, built on the traditional territory of the Secwépemc people, that tells the story of native plants and landscape features in the area through the voices of local youth.
Visitors will scan signage along the trail to hear students and their teacher from Chase Secondary School's Secwépemctsin language class share what they learned from their elders, inviting the public to celebrate the power of story, nature and culture, and discover the rich history of the land.
"We started out on our Story Trails journey because the wild, incredible nature of our backyard is core to who we are as British Columbians," says Andrew Day, BC Parks Foundation's Chief Executive Officer. "It's so important for everyone to hear stories about this land and its history from local First Nations so we can all better understand how and why it needs protecting. If we pay close attention to nature, and practice respect with caring, we can come closer to understanding how its unique hidden secrets benefit us and our world."
The Story Trail is a collaboration between the BC Parks Foundation and BC Parks, with the support of the Little Shuswap Lake, Adams Lake and Neskonlith bands, Chase Secondary School, School District No. 73 (SD73), the Habitat Conservation Trust Foundation (Wild BC) and the Adams Lake Division of Interfor, who donated local cedar for trail signage.
"The Story Trails project will give British Columbians a better appreciation of Indigenous culture and Indigenous peoples' deep connection to the land. I am delighted to see youth, First Nations and community partners come together to create a unique and meaningful experience for visitors in our beautiful provincial parks," says Honourable George Heyman, Minister of Environment and Climate Change Strategy.
"We are proud of this innovative partnership which demonstrates a commitment to including Aboriginal worldviews through hands-on learning experiences," said Alison Sidow, SD73 Superintendent of Schools. "Secwépemctsin language teacher Ivy Chelsea has done remarkable work engaging with partners to bring relevant and meaningful learning to her students and the community."
Media are invited to a special opening ceremony on the morning of Friday, June 7 to experience the trail first-hand. Representatives from partner organizations will be available for interviews.

This is the first installment of the BC Parks Foundation's Discover Trails network - an interactive trail network being established in partnership with BC Parks.
About the BC Parks Foundation
Founded in 2018, the BC Parks Foundation is an independent foundation on an expedition to create the best parks system in the world. Along with residents, visitors and other organizations, the Foundation is protecting, enhancing and sustaining B.C.'s incredible parks, while inspiring and connecting people to them. As official charitable partner of BC Parks, the Foundation works collaboratively with government to achieve success but remains an independent charity. Learn more at bcparksfoundation.ca.
Media Contact:
Similar Stories
"

BC's parks are a stream flowing from the original earth, through our hands, to the future.

"
Subscribe to our newsletter