Discover Parks Ambassador Program
Providing education and experiences to park visitors across B.C.
The summer of 2020 saw the launch of our Discover Parks Ambassador Program. Discover Parks Ambassadors are youth, under the age of 30, who are out in the field, engaging visitors with activities, educating and inspiring the next generation of park stewards. The program aims to bring a fresh perspective to visitor experience in provincial parks across B.C..
This pilot program is an exciting new partnership between the Foundation and BC Parks, with the goal of providing jobs, training and educational opportunities to B.C. youth, while enhancing the experience of park visitors. The program was also supported by volunteers from the Canadian Wildlife Federation's Conservation Corps Program, and funding from the Canada Summer Jobs Grant.

Modern programming for all ages
The ambassador team is comprised of energetic, smart, passionate, outdoor enthusiasts, using their skills and education to pilot the newly designed Jerry's Rangers programs, along with a variety of other games and educational activities in parks. Activities include; teaching park visitors about bike safety, edible and medicinal plant education, providing park tours, running campfire singalongs, sharing the benefits of iNaturalist, educating families about snakes, birds, bats and other creatures found in the park, and much more!
By facilitating these activities, the youth are empowering guests to take ownership over their park experience, while creating new friendships and communities among park visitors. Discover Parks Ambassadors empower and connect people through the positive healthy feelings one has when outdoors.

Educating future park supporters
British Columbia has the sixth largest park system in the world, and it is important that we protect it. Our Big Hairy Audacious Goal is to develop the best parks system in the world, supported by an active, diverse and innovative local and international community. By providing young people, both our ambassadors and their guests, with positive and educational park experiences early in life, we are building a network of future park supporters. We aim to foster a sense of stewardship among our program's leaders and visitors, who will grow to support park care, development, and preservation in years to come.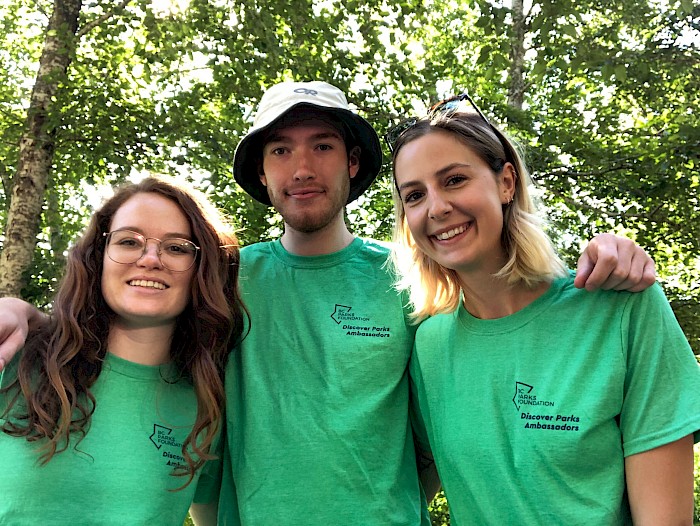 Although our team has concluded the pilot season, keep your eye out in the summer of 2021 for their brightly coloured uniforms that say Discover Parks Ambassadors and say hello the next time you visit, they'll be happy to share their knowledge with you!
2020 Pilot Program Results:
Provided jobs and volunteer opportunities for ten youth under the age of 30 across B.C..
Provided programming in twelve parks across four regions of B.C..
Hosted almost 300 nature-based games and activities.
Contributed close to 5000 observations to B.C.'s Big Nature Challenge.
Impacted over 6,500 British Columbians across the province.
Donate to the Discover Parks Ambassador Program:
If you would like to support park experiences and park careers for youth, we encourage you to donate to the Discover Parks Ambassador program.
$25.00 runs one interpretive nature walk teaching visitors about park flora and fauna.

$50 facilitates an evening campfire program for families.

$100 supports a weekend-long Bio Blitz creating new citizen scientists across a region.

$500 purchases a season's supplies of props, and workbooks for families in one region.

$1000 provides work for a young person in parks for two weeks.
Thank you to our Discover Parks Ambassador program partners:

"

You want to create space in your consciousness for your frequency to shine through. That's what owning yourself is all about. It is in the stillness that these messages can make themselves known. And you needn't look further than nature.

"
Subscribe to our newsletter