Story Trail in Tsútswecw Park
Welcome to the Tsútswecw Park Story Trail
This is the first Story Trail in British Columbia, built on the traditional territory of the Secwépemc people.
As you walk along this trail, you will see 15 signs with QR codes. Scan the codes with your cell phone to hear students from Chase Secondary School's Secwépemctsin language class and their teacher tell stories about the native plants and landscape features in front of you and learn about the rich history of the land. They'll tell you the names of these plants in the Secwépemctsin language. Visited the trail already? Tell us what you thought about it.
About the Secwépemctsin language
The Secwépemctsin language is part of the Interior Salish language group, spoken by the Secwépemc whose traditional territory covers the central and southern interior of British Columbia. Secwépemctsin connects its speakers to the land, passes knowledge down through generations and maintains the Secwépemc culture and identity1,2.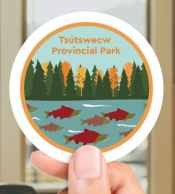 Efforts by schools and advocacy organizations in the area are helping elders preserve the language by teaching it to local youth.
Can't visit the trail in person?
Follow along with the story on the map below (hint: start at Mosquito & Thunder in the top-left of the oval). You can also support this and other story trails and commemorate your outdoor experience with our collectible park sticker.
"My wife and I very much enjoyed the Story Trail at [Tsútswecw] Park. It added a new dimension to the park experience. It was both educational and entertaining. It was valuable to here how the printed Shuswap words are pronounced. Thanks!" - Trail visitor
May 30, 2019

Last year, BC Parks renamed three provincial parks to reflect their historic and cultural significance, using local First Nations languages: Brooks Peninsula Provincial Park on Vancouver Island is now Mquqwin/Brooks Peninsula...

Continue reading…

June 10, 2019

BC has the world's sixth largest park system That's over 14 million hectares across more than 1,000 protected areas – which is something we can all be proud of. However,...

Continue reading…
Partners
BC Parks

School District No. 73

Habitat Conservation Trust Foundation Education (Wild BC)

Interfor, Adams Lake Division

Shuswap Trail Alliance
"

BC's parks are a stream flowing from the original earth, through our hands, to the future.

"
Subscribe to our newsletter