Say hello to the Discover Park Ambassadors: New hosts coming to a provincial park near you
July 8, 2020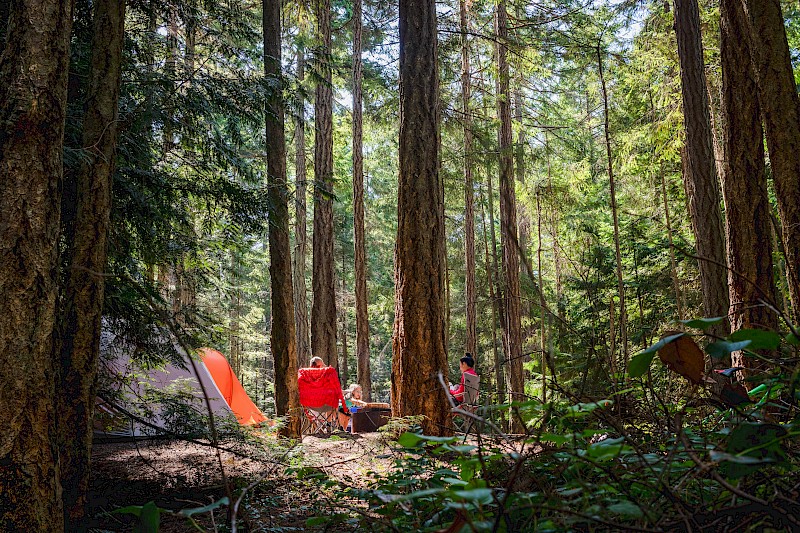 Vancouver, B.C., July 18, 2020 |
There will be some friendly new faces greeting visitors at a few provincial parks this summer, as the BC Parks Foundation and BC Parks introduce the Discover Parks Ambassadors.
The ambassadors consist of youth, under the age of 30, and volunteers who will be out in the field, engaging visitors with activities, education and more. This pilot program is an exciting new partnership between the Foundation and BC Parks, and has a goal of providing jobs, training and educational opportunities to B.C. youth, while enhancing the experience of park visitors.
"Having more boots on the ground in our provincial parks is incredibly important right now," said Andrew Day, Chief Executive Officer, BC Parks Foundation. "The number of people visiting parks continues to increase. We'll be providing more things for visitors to do and reminding them of the importance of following good health and stewardship practices. We're also providing jobs for young people in our most beautiful places. We hope with a successful summer 2020 pilot, that we'll be able to expand the Discover Parks Ambassador Program even further in the future."
Their first day in the field will be Saturday, July 18, which also happens to be Canada's Parks Day, an annual event dedicated to celebrating Canada's beautiful, natural landscapes and encouraging Canadians to get outside. Visitors will find ambassadors circulating between parks in the Kamloops, Rock Creek, Parksville and Fort St. John areas where they will:
Engage park visitors in family-friendly and physically distant park activities and interpretive programming
Chat with visitors about local flora and fauna that can be spotted in the area, and how to keep from disturbing or harming them.
Educate visitors on responsible park recreation practices
Show visitors how to collect important nature observations as part of the BC Parks iNaturalist Project, and the drive to collect 1 million observations as part of BC's Big Nature Challenge.
"We are very pleased to partner with the BC Parks Foundation and pilot the Discover Parks Ambassadors Program. This will help young people gain new skills, knowledge and training through hands-on experience in our beautiful provincial parks," said George Heyman, Minister of Environment and Climate Change Strategy. "With more people spending time outside connecting with nature, this program is a great way to improve visitor experience, deepen the relationship to our parks and protected areas, and strengthen the rich natural legacy of our province."
The ambassador team will be made up of four youth, funded by the Government of Canada's Canada Summer Jobs Program, and five volunteers from the Canadian Wildlife Federation's Canadian Conservation Corps.
"We are thrilled that the Canadian Conservation Corps participants will part of the BC Discover Parks Ambassadors Program," said Rick Bates, CEO of the Canadian Wildlife Federation. "These young Canadians are building a better Canada by giving back, and they have received the wilderness training and leadership skills necessary to inspire the conservation of wildlife and habitat for the use and enjoyment of all. We thank them in advance for sharing their knowledge and enthusiasm with parks visitors."
Look for the brightly coloured uniforms that say Discover Parks Ambassadors and say hello the next time you visit, they'll be happy to share their knowledge with you!
-30-
About the BC Parks Foundation
Founded in 2018, the BC Parks Foundation is a private foundation on an expedition to create the best parks system in the world. Along with residents, visitors and other organizations, the Foundation is protecting, enhancing and sustaining BC's incredible parks, while inspiring and connecting people to them. As official charitable partner of BC Parks, the Foundation works collaboratively with government to achieve success but remains an independent charity. Learn more at bcparksfoundation.ca.
About BC Parks
BC Parks is responsible for the management of one of the largest protected area systems in North America spanning 14.4 million hectares of land encompassing 1,033 provincial parks, recreation areas, conservancies and ecological reserves and ensuring their world-class conservation, outdoor recreation, and cultural heritage values are protected for generations to come. While the primary agency focus is protecting BC's parks and protected areas, we are also responsible for developing and maintaining programs that promote positive, interactive, and educational user experiences, and developing and maintaining capital infrastructure for more than 24 million annual visitors that come to enjoy over 10,700 vehicle accessible campsites, 2,000 back country sites, a trail system of over 7,000 miles, and our many day use facilities.
About the Canadian Wildlife Federation's Canadian Conservation Corps
The Canadian Conservation Corps is a nine-month program for Canadian youth ages 18 to 30 supported by the Government of Canada through the Canada Service Corps. The Canada Service Corps is designed to generate a culture of service among young Canadians; concrete results for communities; personal growth through participation in a diverse team of peers; and lasting impacts on participants. For more information visit CanadianConservationCorps.ca or follow #CCCAdventure #LeadersToday #CanadaServiceCorps.
Media Contact:
news@bcparksfoundation.ca
Similar Stories
"

You want to create space in your consciousness for your frequency to shine through. That's what owning yourself is all about. It is in the stillness that these messages can make themselves known. And you needn't look further than nature.

"
Subscribe to our newsletter