I Spy Salmon Contest 2022




Welcome to BCPF's first 25x25 challenge!
Autumn in BC means the return of millions of salmon from the ocean to their natal streams for spawning! This annual migration is a sight to behold, attracting plentiful wildlife, including bears and bald eagles, along the way. Swimming upstream against currents, over obstacles, and up waterfalls, salmon are a true symbol of perseverance and resilience. The BC Parks Foundation is teaming up with the Pacific Salmon Foundation this fall to bring you the "I Spy Salmon 2022" contest. Here, you will find info on how you can enjoy this natural spectacle and enter the contest. See whether you can spot all five species of salmon in BC and share your experiences on social media for a chance to win some great prizes.
Timing
Start date: September 25, 2022
End date: October 31, 2022
Prizes
One prize worth $250 drawn every week for 5 weeks, and one grand prize worth $2500 drawn at the end of the campaign.

How to enter
To enter, do one of the following:
Post a picture or video of yourselves salmon spotting on social media

Get outside and enjoy one of BC's most spectacular natural events, spot salmon in creeks and rivers near you during their fall migration. Post a picture or video of yourselves enjoying your local park, spotting salmon, on Instagram, Twitter, or Facebook (make your post public). Use the hashtag #ispysalmon and tag @bcparksfdn and @pacificsalmonfoundation to be in with a chance to win. Each unique post counts as one entry.

Post salmon observations on iNaturalist

First, upload photos of salmon in BC taken between Sep 25 and Oct 31 onto

iNaturalist. Next, share a screenshot of your iNaturalist observation on Instagram, Twitter or Facebook (make your post public) with the hashtag #ispysalmon and tag @bcparksfdn and @pacificsalmonfoundation. That's it! Each post with a screenshot of a unique iNaturalist observation of spawning salmon counts as one contest entry. New to iNaturalist? To upload observations, start by registering for a free account on the iNaturalist app or iNaturalist.ca. Check out the resources below for more help.

Weekly winners will be randomly selected from all entries that meet the contest criteria on Oct 3, 10, 17, 24, and 31. Weekly winners are excluded from other weekly draws and the grand prize draw. The grand prize winner will be randomly selected from all other qualifying entries on Nov 1.
By entering the "I Spy Salmon 2022" contest, you agree to the contest terms and conditions (see below).

Resources for salmon spotting
Get started with iNaturalist – iNat Guide | BC Big Nature Challenge
Learn more about the five salmon species found in BC and their lifecycle: Species & Lifecycle « Pacific Salmon Foundation

Where can I spot spawning salmon?
Salmon return to the streams where they hatched to reproduce as adults. These are usually clear, cool freshwater streams with high oxygen levels, clean gravel (for laying eggs in), and woody debris. Check out salmon spawning locations using this great map from the Pacific Salmon Foundation that includes many of BC's amazing provincial and regional parks. If you spot salmon spawning in an unlisted location, do add the location to the map!
Events
• Salute to the Sockeye, Sep 30 – Oct 23 at Tsútswecw Provincial Park
• Monitor spawning salmon with the Streamkeepers Program (pskf.ca)
• Salmon Come Home — Hoy-Scott Watershed Society, Oct 23
• Coho Commotion at Capilano River Hatchery, Oct 22, 10:30 am – 2 pm.
Salmon viewing etiquette
When looking for spawning salmon, here are a few tips to keep in mind so you don't disturb the fish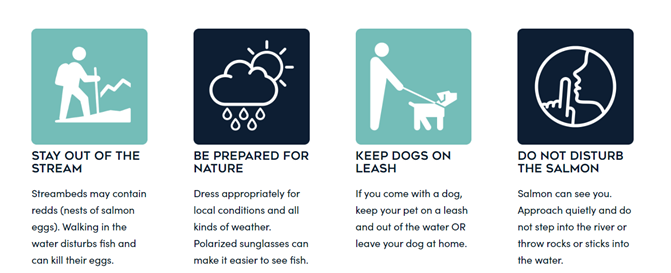 Be aware also of wildlife that are attracted to the salmon in the streams. Remember, it is important to not stress the spawning salmon. By the time salmon get to their spawning grounds, they have very little energy left. If they get disturbed and swim away, they would be wasting precious energy.
Click on these links to learn more about Pacific salmon and how you can help. Consider volunteering with local streamkeepers to monitor the spawning process!
I Spy Salmon 2022 Contest Terms and Conditions
The "I Spy Salmon 2022" contest is hosted in partnership with the BC Parks Foundation (BCPF) and the Pacific Salmon Foundation (PSF). The contest is open to residents of Canada, excluding Quebec residents and BCPF or PSF employees. To enter, post a photo or video of yourself spotting salmon spawning in BC or a screenshot of an iNaturalist post of spawning salmon in BC with the hashtag #ISpySalmon on Instagram, Facebook (must be a public post), or Twitter and tag @pacificsalmonfoundation and @BCParksFDN. Only individual personal social media accounts (i.e., no group or composite accounts) can be used to enter this contest. Qualifying posts have to be made between 12:00 PM (PDT) September 25, 2022 and 11:59 PM (PDT) October 31, 2022. No purchase is necessary. By entering this contest, participants give BCPF and PSF permission to re-post their social media and iNaturalist usernames and posts on BCPF and PSF social media, websites, blogs, and newsletters. Winners of weekly prizes and the grand prize will be randomly selected from all qualifying entries. Winners will be contacted by BCPF and have to provide their names and mailing addresses to receive prizes. This contest is not sponsored or endorsed by Instagram, Facebook, or Twitter. By entering the contest following these guidelines, participants agree to the above terms and conditions.
"

BC's parks are quite simply wonders. They are places of majesty and beauty. They are gathering places for families and communities. They are engines of our economy in attracting millions of tourists to our province. And they are sanctuaries to millions of plants and animals, creating the biodiversity that gives British Columbians the clean air and clean water so vital to our healthy existence.

"
Subscribe to our newsletter