Kamp Festival
June 2, 2018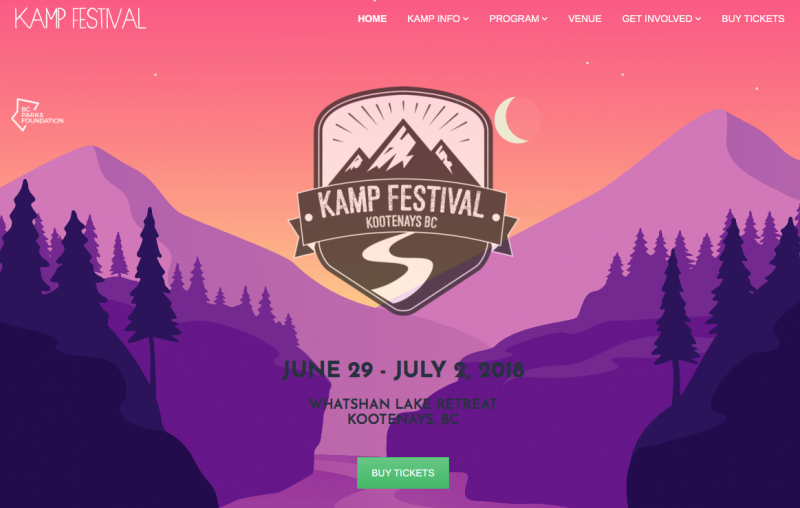 We are excited to be the official charitable partner to KampFestival, a fun festival held in the Kootenays every year. 
KAMP Festival is a summer camp for adults! A three-day weekend adventure that encourages participation, recreation, and art creation. Relive the classic Summer Camp environment that some of us experienced growing up in the beautiful Kootenays of British Columbia.
Kamp welcomes you to express yourself and inspire others to do the same. Enliven the spirit and stimulate personal growth through teamwork and collaboration. Daylight hours will be busy with activities covering Arts & Crafts, Health & Wellness, Movement & Play and Outdoor Recreation. Night time will bring festival culture into the mix with a cozy tea lounge, film and art gallery, boutique vendor village, and a lively stage featuring fresh music, engaging visuals, and theatrical performances.
This event is all about participation! It's about building your potential and connecting with others. This is not your typical festival, or a wellness retreat… it's KAMP!
Nestled on the edge of the Kootenay Mountains of BC, the beautiful setting of Whatshan Lake Retreat Centre, will allow you to fully detach from the outside world. Kamp encourages you to disconnect from the day-to-day hustle and enjoy life in the moment. Leave your phones at home! No Facebook, no status updates, no 9-5 grind – just co-creation and abundant fulfillment. Get involved in games or activities, create an artistic masterpiece or paint a rock, practice yoga or meditation, paddle a canoe or kayak on the lake, plunge into crystal clear waters of the river swimming hole, or just take time to stop and smell the roses during a peaceful nature walk.
http://www.kampfestival.com/
Similar Stories
"

When I get beneath the surface of things, these are not moments of mystery, they are moments of extraordinary clarity.  Everything has the energy of its making inside it.

"
Belong To An Inspiring Community
Get Exclusive Content and Deals.